The Difference is Clear!
• Local Service
• Fast Response Times
• Complete IT Service
• One number to call
• Clear Service Level Agreements
• Extensive Experience
• Proactive Service
• Regular Check-ups
• Remote monitoring of system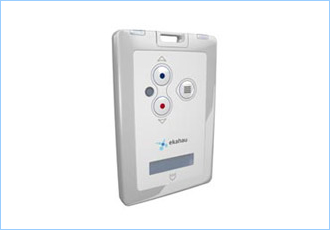 T301BD Rechargeable Wi-Fi Tag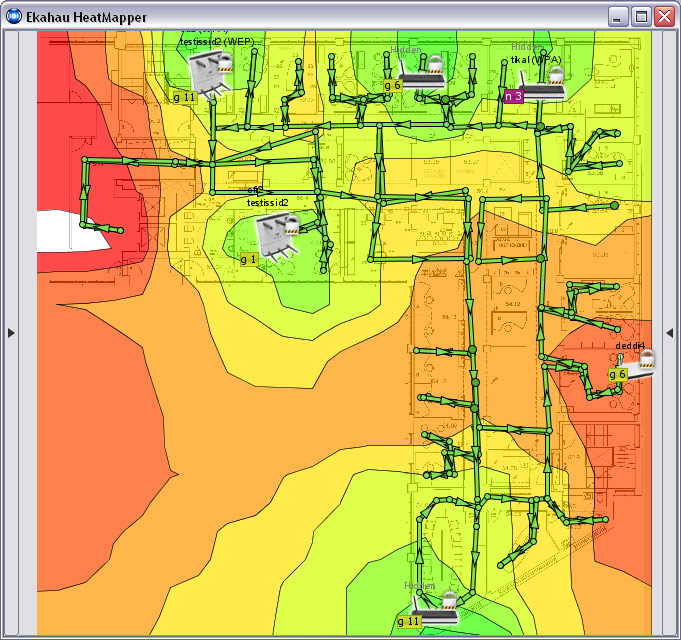 Floor Plan - Showing Heat Map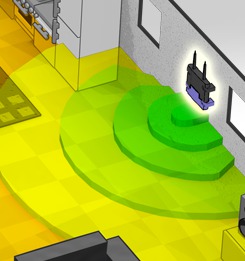 Single Access Point Location





Wireless Tracking Systems - How it Works
Ekahau's Wi-Fi based RTLS uses patented software-based algorithms to compute location of tracked objects, eliminating the need for exciters, choke points, receivers and other proprietary hardware infrastructure. It can easily scale to support tens of thousands of tags on a single server. With Ekahau, your RTLS system can be implemented in a matter of weeks, not months.
The Ekahau location protocol enables the wireless location tags to function as any standard Wi-Fi device, and therefore makes possible the unique two-way communication features between the tags and applications, delivering features such as visual and audible alerts and two-way text messaging.
Because the Ekahau system relies on your existing Wi-Fi infrastructure, we offer superior tracking accuracy at a fraction of what proprietary systems cost. And without the disruptions to your business.
Integration
The Ekahau RTLS can be seamlessly integrated into your existing enterprise middleware, database, ERP, workflow, and other systems, enabling automated and on-demand functions, reporting and analysis. Ekahau?s open architecture and XML API enable integration with virtually any enterprise systems, such as Oracle, SAP and Sybase.
System Components
In addition to the battery powered Wi-Fi tags and the application software, the Ekahau RTLS comes with the Ekahau Positioning Engine (EPE) server software that calculates the location from Wi-Fi signals, and the Ekahau Location Survey (ELS), an easy-to-use point and click utility for network verification and creating positioning models during system set-up.
Data gathered during the network planning with the Ekahau Site Survey tool can be also imported into ELS and deployed into EPE.
Best Cost/Performance
Not all Wi-Fi RTLS systems were created the same. The Ekahau location algorithms inside EPE employ over fifteen years of intensive research on statistical modeling and probabilistic math, enabling the Ekahau to perform better than any other Wi-Fi based RTLS system.
Since we use your Wi-Fi network as our backbone, some accuracy factors are dependent upon the network you already have in place. An enterprise grade 802.11 network is typically good enough to deploy Ekahau RTLS with results that will satisfy your demanding requirements. If your network supports voice over IP calling, it is perfect for achieving the accuracy to meet your expectations.
Some vendors say that they can achieve accuracy to within six inches. This might be necessary for locating surgical instruments in an operating room, but in order to do this, these vendors must install a myriad of readers and cabling. Some vendors say that they need to install choke-points to doors. That may be feasible for counting people in shopping malls, but not reasonable in large scale hospitals with hundreds of doors.
Hundreds of companies like McKesson, Nortel Networks, Siemens and others have evaluated Ekahau against competitors in real-world deployments and have determined that Ekahau offers the best combination of technology, cost, and product maturity.
It is easy, it is fast, it is accurate!
Ekahau Wi-Fi Tag Family
To locate a person or a mobile object using Ekahau RTLS requires simply attaching Ekahau tag to the tracked object, or a person carrying Ekahau badge. Additionally, mobile computers and other Wi-Fi enabled devices can be accurately tracked using small software running on the background of the device.
Since launching the industry-first Wi-Fi based RTLS system in 2002, Ekahau has built several generations of Wi-Fi tagging devices, for any brand of standard Wi-Fi networks. Current Ekahau tag family represents of more then 10 years of expertise in building Wi-Fi based location systems.
The following describes the different Ekahau options for tagging:
Ekahau T201 and T301x family of tags. These tags operate independently, report signal strength measurements, provide 2-way communication for interfacing with application and tag management. T301x tags also support industry standard WPA2-PSK security Ekahau Client is a small software agent, a "Software Tag", that runs on a laptop computer, PDA, Tablet or other mobile computers Wi-Fi Phones that are location enabled for Ekahau such as Polycom's Spectralink 8000 Wi-Fi modems are small modules that can be integrated inside other devices for telemetry purposes. Wi-Fi modems provided by Digi and Lantronix have a build-in support for Ekahau RTLS
Other devices that support the Ekahau Location Protocol
UK Reseller: First Choice Computers (West Midlands) Ltd.
© Copyright (c) 2000-2007 Ekahau, Inc. All rights reserved.
Video 1
Video 2